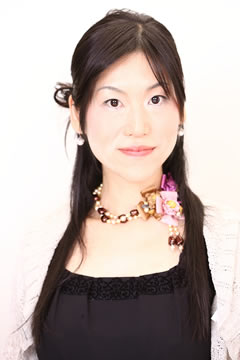 Meet the artist
After working as a fashion designer, Hiroe Takagi took up a new career as a freelance nail artist and, at the same time, taught herself beadwork. In 2006, Hiroe invented and formulated a processing method for dried flowers using crystal gel and, in 2008, she was granted a utility model patent for her new technique using lace in collaboration with beadwork.
Hiroe has a unique beading style, excelling at beadwork in combination with ribbons, lace, and buttons. Her work appears in several Japanese beadwork books and magazines. Hiroe is a regular high-ranking winner at major Japanese beadwork competitions, including the Bead Art Japan and the Arts J Crafts. Most recently, she won the Gold Creator Award at the Arts J Crafts Exhibition in 2008 and her winning piece, "Bloom", was displayed at the Bead & Button Show 2008.
To view more of her amazing designs, visit:
Website:http://www.beads-fan.jp
Instagram:https://www.instagram.com/hiroe_takagi_beads_fan_/
What inspires you as an artist?
My artistic journey began when I was a child as I enjoyed drawing and seeing famous paintings from the world's artists. My earliest inspiration came from painting "Entrance to The Port of Honfleur" by Georges Seurat, which impacted my endless love for art. My beadwork is inspired by art that move people's hearts; I can feel the immeasurable efforts and passions of other artists.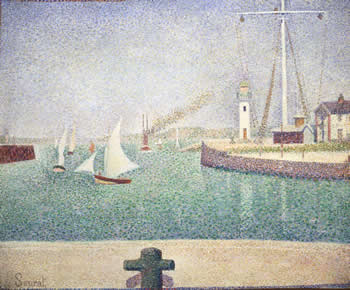 Entrance to The Port of Honfleur
What are you committed to when creating pieces? Describe your style of art.
When I design beadwork, I commit to be innovative, to create delicate work, and to put my dreams into it. I try my best to express a view of the world that no one can imagine and to pursue it; I have to make efforts without hesitation.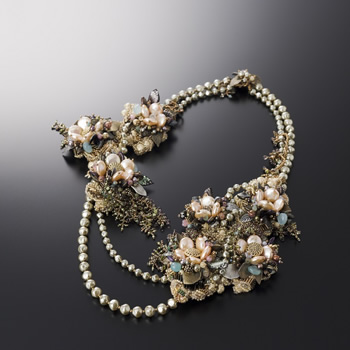 Title: Bloom
-The Gold Creator Award at the Arts J Crafts Exhibition in 2008
Hiroe's new technique with lace in collaboration with beads acquired Utility Model Patent.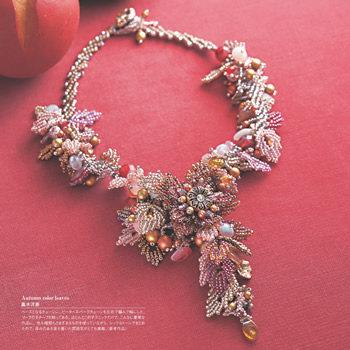 Title: Autumn Color Leaves
-Cover piece on a beading magazine, "Beads Bee"
-Paneled piece at the Bead & Button show in 2012
One-of-a-kind piece, mostly composed of St. Petersburg Chain, is highly admired by the beading industry.
Any message or advice for beaders around the world?
It's fascinating to make artwork that is formed by your specialty and what you like, so don't forget to learn new things to make it your own, gain motivation, and create with a pure mind.
Gallery of Designs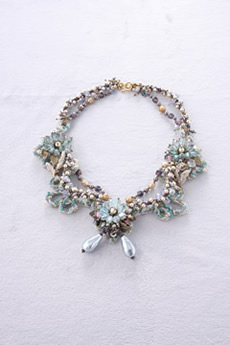 Blue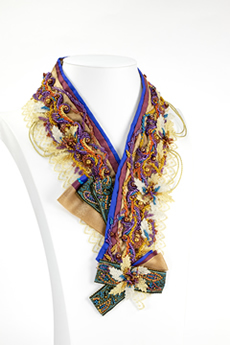 2018 TOHO Challenge Piece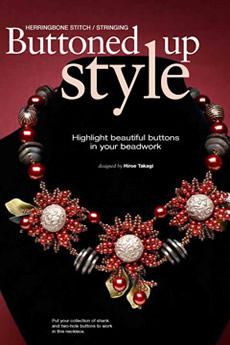 Maroon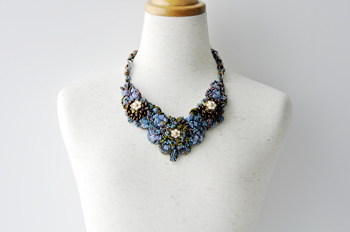 2016 TOHO Challenge Piece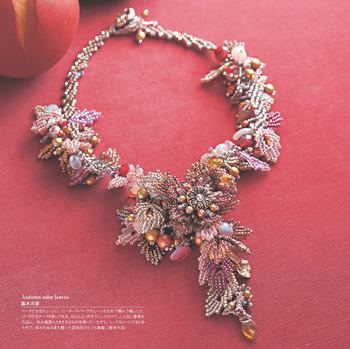 Autumn Color Leaves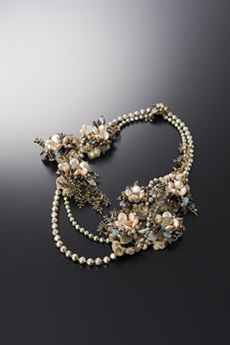 Bloom