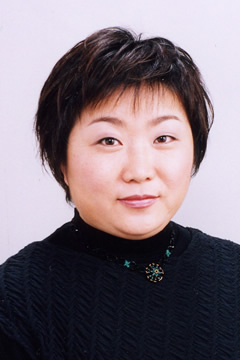 Meet the artist
As a fellow member of the Bead Society of Japan, Emi Yamada has gained expertise in a broad range of beading techniques, from off-loom and bead crochet to wirework and, bead embroidery. She has taught classes at her "Atelier Chocoo" in Hiroshima, across Japan, and internationally. She has also taught classes at the Bead & Button show in Milwaukee, WI since 2011. As a top beading artist and teacher, Emi devotes herself to educate and foster professional teachers at the Japan Seed Beads Society. Her pieces have been featured at prestigious department stores for display and sales. Emi's beadwork has won a number of awards at major competitions, including the grand prize of Costume Jewelry Bridal Contest at the Bead Art Japan in 2009 and the Bronze Creator Award at the Arts J Crafts Exhibition in 2015.
To view more of her amazing designs, visit:
Website: To be updated
What inspires you as an artist?
Paintings, porcelain, and lacquer work play an important role in inspiring me to do beadwork. I further cultivate my artistic sense by enjoying true arts around me like spending time to observe flowers or kimonos.
What are you committed to when creating pieces? Describe your style of art.
I let my heart lead my creations. I don't pre-plan designs; instead, I expand upon gorgeous components I have discovered during the beading process. I find it interesting to combine colorful beads and, natural components with various beading techniques.
Any message or advice for beaders around the world?
I enjoy free style beading; it's always fun to play with any beads and techniques that I like. If you want to bring your beadwork to another level, you need a willing heart to learn new techniques.
Gallery of Designs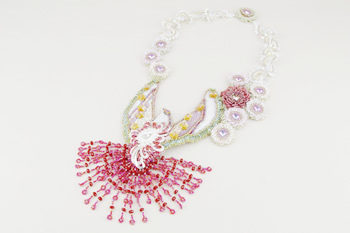 Suzaku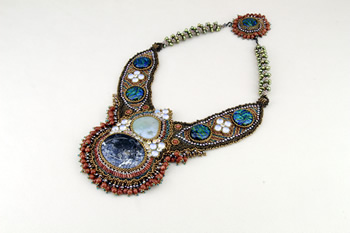 Wind of the Inca Civilization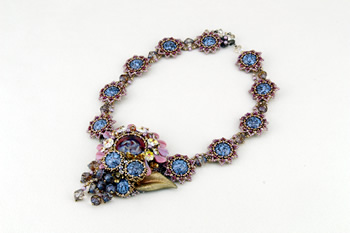 Gerbera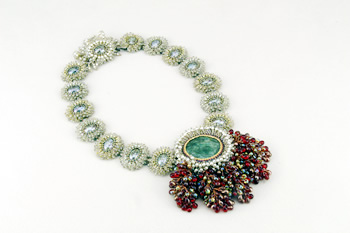 Marie Antoinette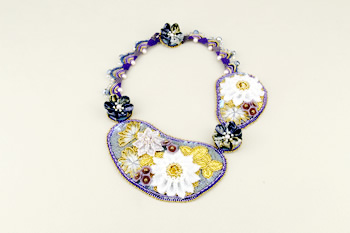 TUMAMI ~Sion~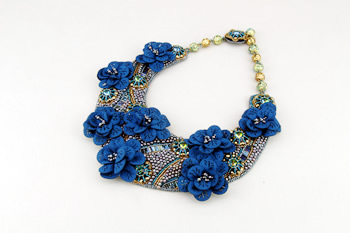 Flower Rhapsody